Today we have a quick recollection of a Great Day Community Service Day
posted 10/24/22
Click on 150th Anniversary Videos page to view the Video
Please enjoy this great article from the Catholic Diocese of Cleveland
posted 10/21/22
click on the link below   Don't forget to scroll through all the pictures
Holy Family Parish, Parma celebrates 150th anniversary (dioceseofcleveland.org)
150th Anniversary Banquet
Sunday, November 13
Catered Dinner & Dessert • Door Prizes • Side Boards!
TICKETS: $25 Adults | $10 Children under 10
Available at the church office, school office and after  weekend Masses starting the weekend of October 22-23.  Deadline to purchase: Sunday, November 6th.
MENU: Chicken Marsala, Roast Beef, Pasta, Mashed Potatoes, Green Beans, Salad & Rolls. CHILDREN: Chicken Fingers, Macaroni & Cheese, Green Beans
Holy Family 150th Anniversary Mass, Sunday October 16, 2022 at 11:30 AM
Mass was celebrated by Bishop Edward C. Malesic. Concelebrants were Fr. Richard A. Evans, Fr. Michael Denk, Fr. Kenneth Wallace, Fr. Joseph Spolny, Fr. Edward Schwet, Fr. John Schneider. Please click here for the article on the Diocese website.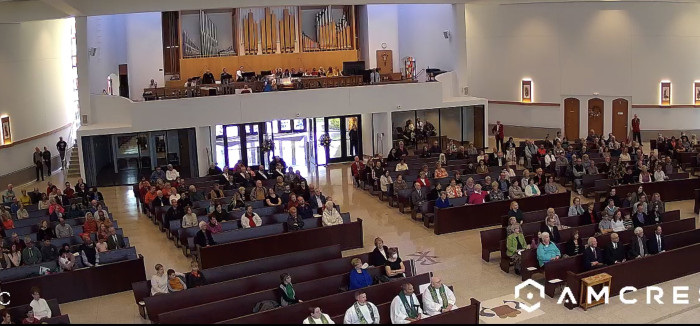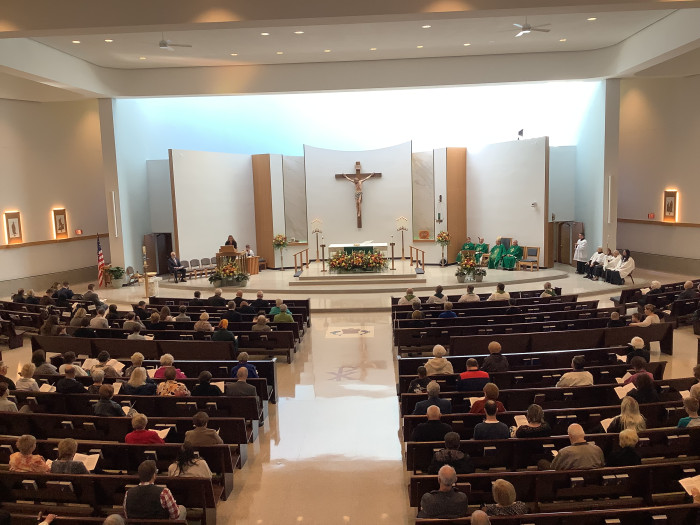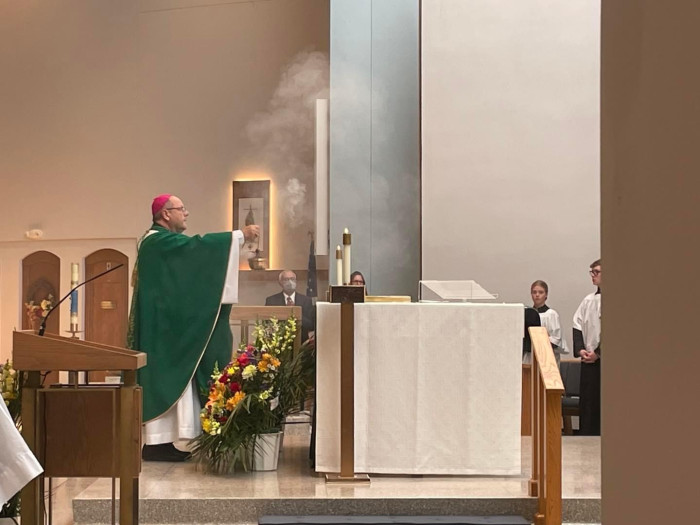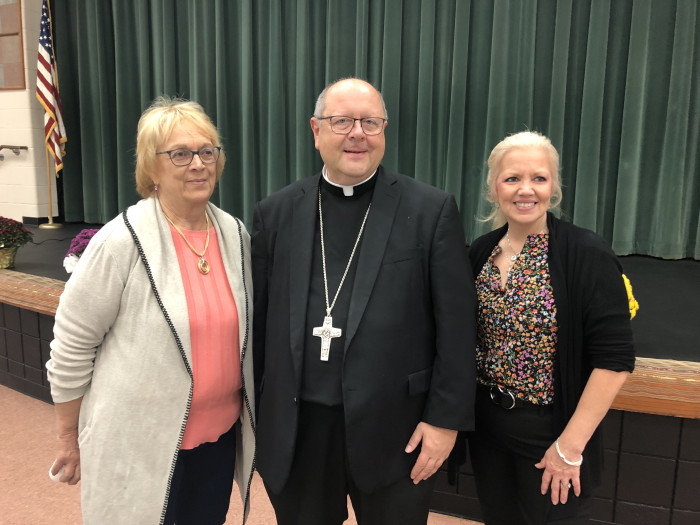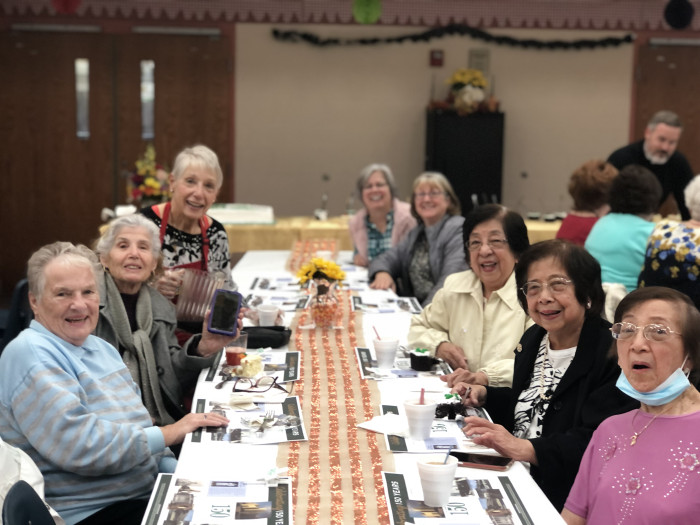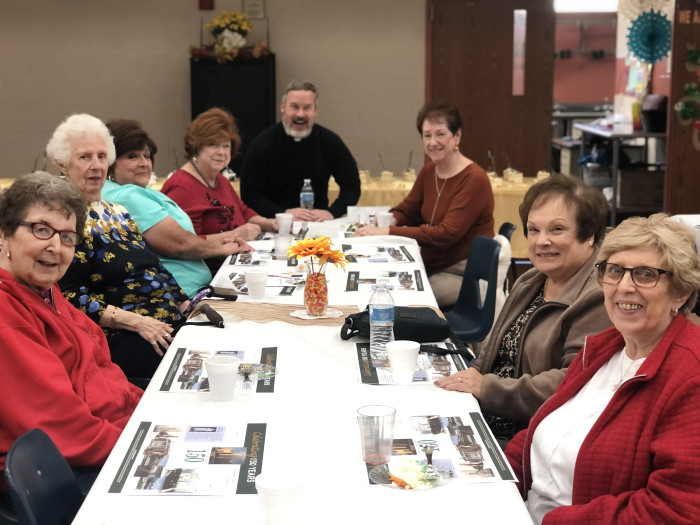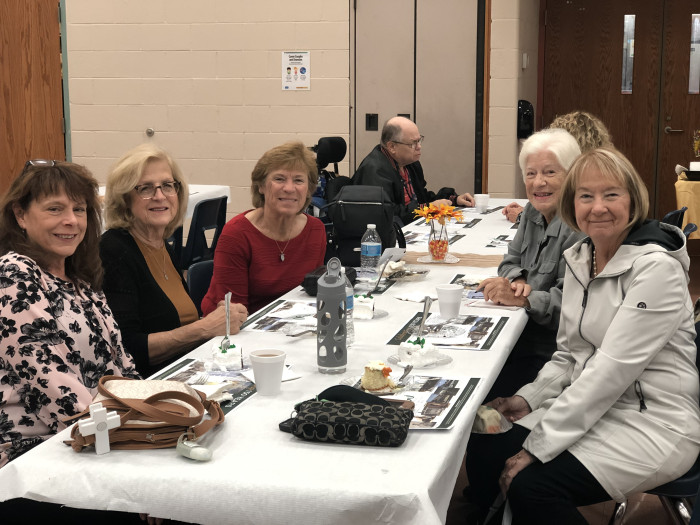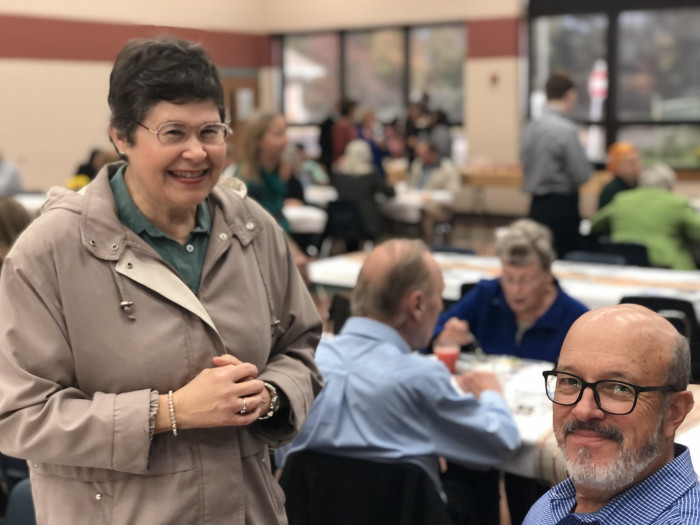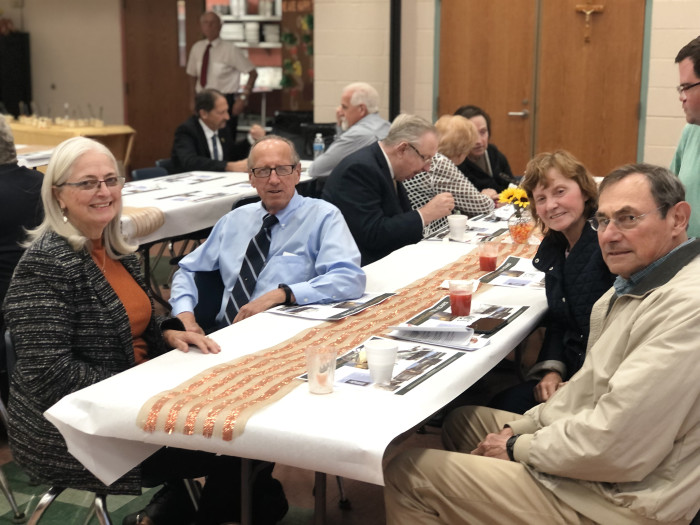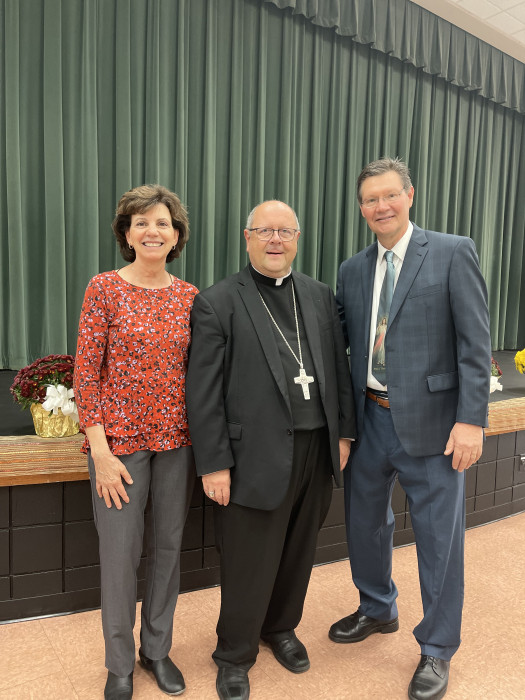 Holy Family Community Service Day  October 8, 2022
posted 10/6/22
COME JOIN US
There is still time to volunteer online.  Volunteer opportunities are available for EVERYONE!  Volunteer online https://holyfamilyparish.ivolunteer.com/csday_22
You can also just show up at the church tomorrow
  8:30 am    Service in the church
  9:00 am    Coffee & Donuts in the Chapel  to receive your assignments
10:00 am    Assignments begin
4:30 pm      Vigil Mass in the church  (service day volunteers and ALL)
5:30 pm      Community Meal at the Costello Center All are welcome
Hope to see you!
Today Dale Shafer in the Deacon Formation Program says hello to his home parish
posted 9/27/22
Find out about our Altar and Rosary Society
posted 9/13/22
Today we meet some of the Ministers of Hospitality
posted 9/6/22
Catch up with an old friend Fr. Tom Haren
posted 8/29/22
The Ministry of Lectors
posted 8/22/22
Lectors proclaim God's Word in the midst of the assembly at both Sunday and weekday Masses.   God could very well be calling you to join in this wonderful Ministry.   Training will be provided for all those  interested.
 Enjoy some thoughts shared by several of our current Lectors
Spend some time with Fr. Schneider
posted 8/9/22
Check out Fr. Larry Martello's wonderful video
 posted 8/4/22
The return of Holy Family Parish Festival
The Holy Family Parish Festival Came Back Strong this year.  With Sunny days, and beautiful clear evenings the Festival was a huge success.
A special THANK YOU goes out to the Holy Family Festival Committee!!!  Their untiring work was critical to pull off such an undertaking.  Thanks also to the SO MANY Volunteers who worked prior to, during and after the Festival, and thanks to ALL OF YOU who attended!!
One of the main Goals of all of our 150th Events is "Coming together as a Community", and "Taking that Community out to Others".  Both of those goals were clearly met with our 150th Anniversary Parish Festival.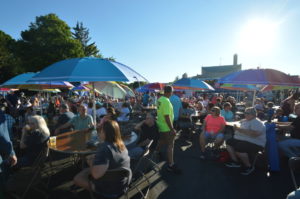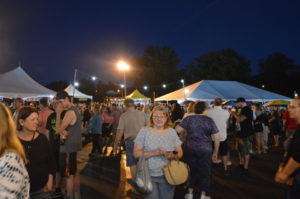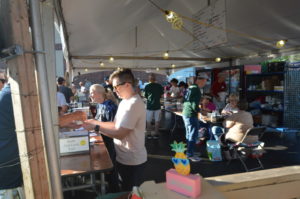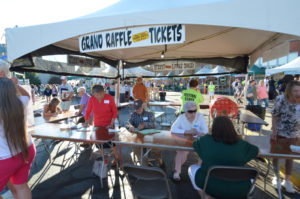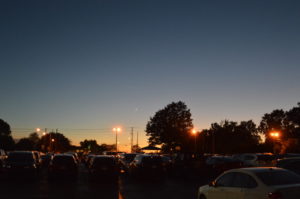 Don't miss this wonderful message from our very own Deacon, Chuck Tweddell
 posted 7/25/22
 Click on 150th Anniversary Videos to watch
Watch this short message of our upcoming Festival
Join us at the Parma 4th of July Parade
Our very special guest this 4th of July is Fr. Joe Brankatelli.  Fr. Brankatelli is a Cpt. in the United States Army.  We thank Fr. Joe for his service to Holy Family Parish and to our Country.
This Video will be available to view on July 4, 2022.
                       Click on 150th Anniversary Videos to watch
Posted 6/14/22
Don't miss this wonderful chat with Fr. Denk
check out the video.  Click on 150th Anniversary Videos to watch
posted 6/1/22
Fr. Schwet chats on the eve of his 40th Anniversary of ordination to the priesthood!
posted 5/23/22
The Spirit Store – Holy Family gear is ready for pickup
For all who ordered Holy Family 150th Anniversary apparel,    IT'S HERE!
If you opted for delivery to Holy Family, just stop up at the office anytime.  They are open Monday thru Friday – from 9:00am till 3:00pm.  All Merchandise is individually packaged for you personally – under your name.
Thank you for your order, and wear your apparel with great pride.
CHECK OUT the NEW VIDEO
posted 5/23/22
Today we share information about our beautiful Prayer Ministry at Holy Family
Click on 150th Anniversary Videos to watch 
5/12/22
Fr. Winkel provides an entertaining look back at our history with many good memories at Holy Family.
posted 5/2/22     
This week, we catch up with Fr. Dave Ireland
posted 4/24/22
Find out more about Walking with Purpose
The Spirit Store to begin production
posted 4/25/22
Ordering from the Holy Family Spirit Store is now closed.  Production of our orders will now begin.  Stay tuned to this page or the Holy Family Bulletin for information about the delivery dates.  Thanks to all who ordered and made this an exiting event.
Holy Family on Where We Worship 1260 The Rock 
If you missed the show, you can LISTEN ON LINE – anytime.
Go to their Web Site www.am1260therock.com and click the On Demand Tab.
posted 3/21/22
Holy Family Parma was featured on the Where We Worship Program on 1260 The Rock – Catholic Radio Station on March 20th.
The show will be re-played in its entirety on the air, Saturday March 26 at 4:30pm.  Listen in, if you can, as we reminisce about our long and illustrious past, and discuss our exciting future with the show's host, Bob Tayek.
The Spirit Store
Opening of  THE SPIRIT STORE   – On line clothing Store.  Many Holy Family clothing items available for purchase
Store is now open click here            click on Significant Upcoming Events for more details
http://holyfamilyparma.itemorder.com
3/19/22       Due to the Wine Tasting Event – All Overflow Masses 3/19 and 3/20,  will be held in the Gym, NOT the Cafeteria.
3/19/22       7:00 pm    Wine Tasting Social 150th Kickoff Event3/19/22
IMPORTANT ANNOUNCEMENT
Due to the WINE TASTING EVENT – All overflow Masses on the weekend of March 19 /20 will be held in the Gym, NOT the Cafeteria.
CHECK OUT the NEW VIDEO of HOLY FAMILY SOCIAL ACTION MINISTRY
posted 3/11/22
Click on Anniversary Videos at left
LAST CHANCE to buy tickets for the Wine Tasting
posted 3/10/22
This weekend is the LAST time you can purchase Tickets – after ALL Masses, as well as at this Friday's fish fry – for the Wine Tasting event on March 19 2022.   This is the First social event initiating our Jubilee year celebrations.  Don't miss this chance to kickoff our 150th Anniversary events in grand fashion on this very special evening.
Even if you don't drink wine, come join us anyway for the camaraderie and fellowship that Holy Family will foster and promote all year long.
Your ticket price includes food and drink (even non-alcoholic) – water, soda, coffee as well as the 4 wine "pours".  There is also live entertainment all evening – side boards – and just plain fun.
This kickoff event is all about community, fellowship, and family.  Don't miss this once in a lifetime event – The inaugural event of the 150th Jubilee year  – where we will celebrate the past, and look forward to the future with all your fellow Holy Family parishioners.
Friday Fish Fries are Back
posted 3/5/22
We are pleased to report that our Lent Fish Fries have returned, once again, offering great food, community and fellowship that we have missed so much.
If you missed the Fish Fry last night, there are plenty more scheduled.  Stop by on any Friday during the remainder of Lent, from 4pm – 7pm.   We look forward to seeing you at the Costello Center.
Stations of the Cross are also back… in the Chapel on Fridays beginning at 7:pm.  Stations are Streamed "Live" and can also be viewed at your convenience later by clicking on this link.
https://www.youtube.com/HolyFamilyParishParma/videos
New Video 3/1/22
Check out our latest Video with Fr. Kristancic     Click on 150th Anniversary Videos (at left)
Many More 150th Anniversary Videos on their Way
posted 2/25/22
Our Anniversary Videos have been a Big Hit!  Both with you – our viewers, as well as with our video guests.  We have many more guests lined up.  So many, that we are pleased to  report that beginning March 1st, we will release 3 new Videos every month as opposed to 2.
A new Video will be featured on this page under the Videos TAB at left, on the 1st, the 10th, and 20th of every month.  As the year goes on,  there will be more opportunity to watch them on different venues.  Stay tuned for more about that, but the easiest way to catch them… is still right here on our WEB Page.
All the Videos will continue to be retained right here… in case you missed one – just scroll down.
Check out – Upcoming Events
posted 2/21/22
Click on Significant Upcoming Events – at left  – for some exciting March Events
Wine Tasting Event is on!
check out the details by clicking  – Significant Upcoming Events – on the left
Holy Family School is ready to celebrate
posted 2/7/22
We are most pleased to share the lip dub – taped during Catholic Schools Week to Celebrate our 150th Anniversary. Hopefully our students can keep up this energy all year long.

150th Anniversary article
Cleveland.Com did a very nice article about our 150th Anniversary Celebration. If you missed it, you might want to check it out. Click the link to view the article.
https://www.cleveland.com/community/2022/01/holy-family-catholic-parish-plans-year-long-celebration-to-mark-150th-anniversary.html
New Video posted this morning
click on 150th Anniversary Videos (to the left)
posted 2/1/22
Important Announcement
posted 1/13/21
We are sorry to report that the February 12, 2022 Wine and Cheese Event, will be postponed from its original date, to a later date. Once the new date is determined it will be communicated to you via all the normal Holy Family communication channels.
Any Tickets that have already been purchased for the February 12 date will be honored for the make up date. If for some reason you purchased a ticket and can't make the make up date your ticket price will be refunded.
Thank you all for your understanding.
150th ANNIVERSARY VIDEOS
posted 1/3 22
CHECK OUT OUR SPECIAL KICKOFF VIDEO
We have a very special guest to kick off our Anniversary Video Series.
Just Click the 150th Anniversary Videos TAB at the left

All throughout our Jubilee Year – 2022, we will be releasing a series of short Videos. These Videos will contain many Guests. They can be
easily accessed for viewing by clicking the TAB to the Left 150th Anniversary Videos, then clicking the URL
We will Kick off 2022 with a very special guest one week from Today – January 3, 2022.
Don't Miss it!!
posted 12/27/21
Holy Family Parish 150th Anniversary ~ 2022
WARMEST WISHES FOR A BLESSED CHRISTMAS TO ALL AT HOLY FAMILY
… The Holy Family Church 150th Anniversary Planning Committee
Annual Calendars
Posted 12/7/21
The commemorative issue of the 2022 Holy Family Parish calendar, celebrating our 150th Anniversary will be available for pick up in the Church vestibule beginning on December 11, 2021
Envelopes marked with your name, in alphabetical order, will be available for pick up. We have limited one calendar per family. The Holy Family prayer card is also included. Please use this prayer throughout our celebration year.
We ask that you only pick up the calendar which has your name on it. If you do not find your name, please contact the PARISH office. Do not ask the ushers. If you wish to have an additional calendar, please contact the parish office and we will distribute based on quantities available. If you know of someone who is not able to attend Mass and you would like to deliver it to them, please do so. Because of the postage cost, we cannot mail the calendars.
The cost of the calendars were graciously paid for by Mr. Louis Ripepi, of Ripepi Funeral Home. We are thankful for their generous donation.
150th Anniversary News

Posted 12/6/21
2022 is rapidly approaching. That means the official kickoff of our 150th Anniversary Celebration. Many Parishioners have been working to prepare for this great event. Many exciting Events are already planned, and more will be added throughout the year.
Check this page often for updates and news relating to what's coming up.
A significant event in our immediate future is the celebration of our 150th Anniversary as a Parish. 2022 marks that great event, and we are already planning for a year-long celebration. Different TEAMS have been assembled to determine and plan the many different events that will take place the entire year of 2022.
Check this page often for Updates. Simply Click on the TABs on the left. Those TABS will be updated regularly (particularly Current News, and Significant Upcoming Events) – to keep you current, and to get you involved!
We mark a milestone in 2022, and we plan to celebrate that achievement abundantly. Be a part of that celebration – be a part of our Family.