Knights of Columbus Movie Nights
The Holy Family Knights of Columbus Movie Nights have resumed!  Please join us in the chapel for an evening of entertainment. All movies begin at 6:00 P.M. and last for 90 minutes unless noted. Snacks, water, and a Dairy Queen treat will be provided.
Friday, October 21, 2022 ~ St. Therese
Friday, November 4, 2022 ~ Purgatory
Friday, December 2, 2022 ~ Francis & Clare ~ 3 hour movie, dinner provided
Friday, January 6, 2023 ~ Paul, an Apostle of Christ
Friday, February 10, 2023 ~ Jesus of Nazareth
Friday, April 21, 2023 ~ St. Kateri Tekakwitha
Friday, May 19, 2023 ~ Mary – Life after Jesus and story of Rhoda Wise
Community Service Day ~ Saturday, October 8, 2022
We are happy to bring back our Community Service Day on Saturday, October 8, 2022 beginning with an 8:30 A.M. service in the church!
The schedule for the day is:
8:30 A.M. ~ service in the church
9:00 A.M.  ~ coffee and donuts in the chapel, receive your assignment
10:00 A.M. ~ assignments begin
4:30 P.M. ~ outdoor Mass
6:00 P. M. ~ cookout dinner, please bring blanket/lawn chaird for outdoor seating. There will be limited table seating for those who need it. In case of rain, the Costello Center will be used.
This is a day where everyone has the opportunity to contribute to the success of this day-no matter your age, skill level or mobility. We are seeking volunteers for Prayer Warriors, Artisans & Crafters, Nursing Home Assistants, and Yard Helpers. Please click here to volunteer or see the bulletin for the volunteer request form. If you know of someone who could use a one-time assistance with end-of-the-season yard service on Saturday, October 8th, please contact the parish office at 440-842-5533 with their name and address.
Young Adults Group
77 & Counting "Life as a Lost Sheep".
Feeling troubled? Looking for something to lift your spirits? Come gather with other young adults to tackle everyday struggles. All young adults 35 and under are invited to join this group. Please contact Brandan Bizzi by text or call 440-334-0795 , email mrcatholic101@gmail.com, Instagram mr_catholic_101 or check the website https://www.mrcatholic.biz/  for more information.
Votive Candles
Votive candles can be purchased at the Parish Office during regular business hours or from the music director, Marie Toth, after Masses on the weekend, or by placing the Votive Light Offering envelope in the offertory collection basket or mail it. The cost is $3.00 per candle. If you wish us to light the candle for you please indicate whether you would like it placed on Mary's altar or St. Joseph's.
Scrip Gift Card Program
Please consider purchasing gift cards to the many stores and restaurants that you frequently visit and for your gift giving needs. Gift cards may be purchased by calling the parish office at 440-842-5533, emailing office@holyfamparma.org, sending the order form with your child to school, or you can stop in the parish office. Proceeds benefit our school tuition assistance program and STREAM program. In addition to the gift cards listed, we are able to special order a wide variety of gift cards and denominations. Please contact the parish office to inquire about special orders. Gift Card Order Form -March 2022 Gift cards may also be purchased and shipped directly to your home using the RaiseRight App on your smartphone. Please see the flyer for details and the enrollment code. ShipToHome_Flyer_Editable (2)
ACME Fresh Market Community Cashback 
The 2022 ACME Fresh Market Community Cashback runs from August 4 through December 24, 2022. Please bring your Community Cash Back ACME receipts to the parish office or drop them off in the labeled receptacle in the hallway between the church and the chapel. You may also put them in an envelope and drop them in the offertory basket. Thank you for your support. Last year we earned just over $180.00.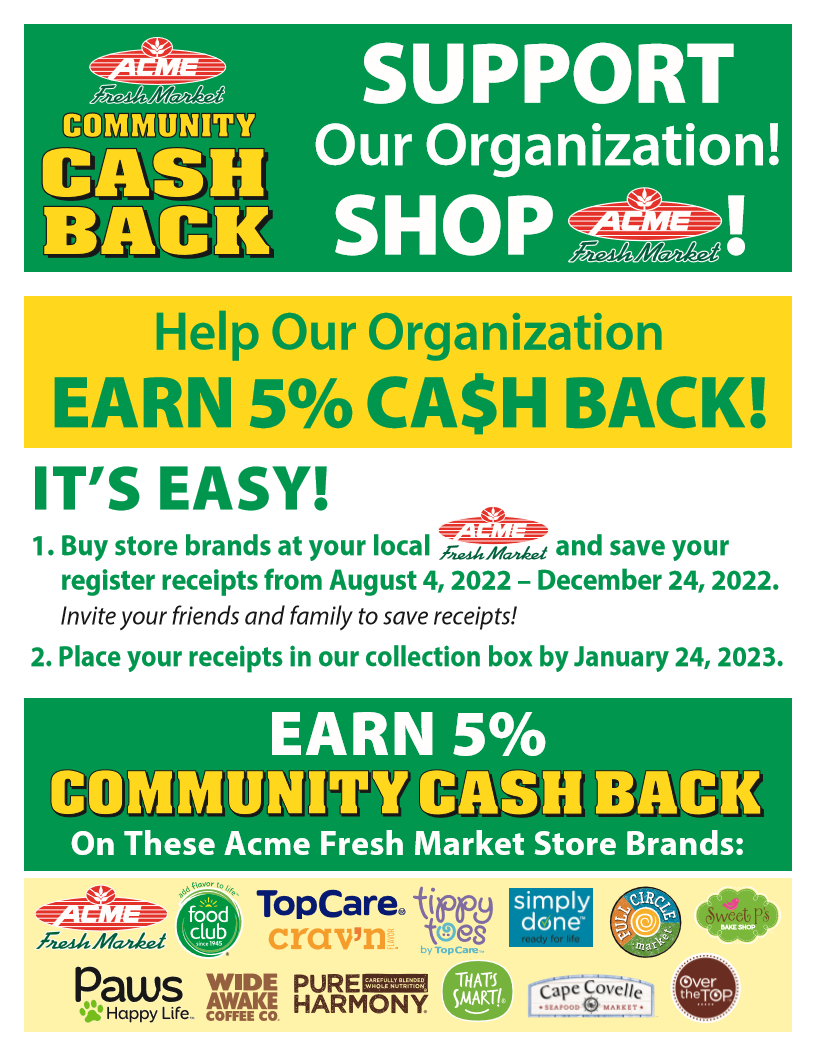 Holy Land Gifts
Please see the flyer for information regarding purchasing religious articles from Holy Land Gifts, or go to their website GiftsofJerusalem.com for more information. Flyer for Holy Land Gifts_
River Valley Paper Recycling Program