Holy Family Childcare and Preschool programs are 5-star rated STEP UP to QUALITY PROGRAMS
Holy Family Childcare Center
We are celebrating 20 years of excellence in Child Care !
Our mission is to provide each child with a safe and nurturing environment in conjunction with and educational and stimulating atmosphere by combining education and home to encourage the social, emotional, cognitive, physical, spiritual and moral development of each child.
We offer child care for infants through preschool age, full time and part time (depending on availability)
Holy Family Preschool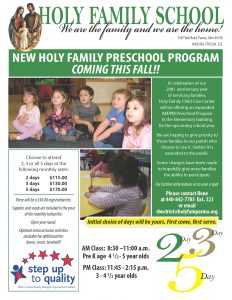 NEW! For the 2016-2017 School year we have launched a Preschool program which will be housed in our School building, which will provide more flexibility and opportunities for 3, 4 and 5 year olds. Full-time and part-time programs are available on a limited basis.
Click on the flyer image for more details or call Rene Buchtel, Director at 440-842-7785 ext 323
or visit   www.holyfamilydaycare.org for information on both programs.