First Friday & First Saturday 
Please join us on Wednesday, October 4, 2023 for the celebration of Holy Mass and the Sacrament of Reconciliation in our Chapel. Confession will begin at 6:30 pm, the celebration of Mass to follow. Jesus is waiting for you to join Him.
Eucharistic Revival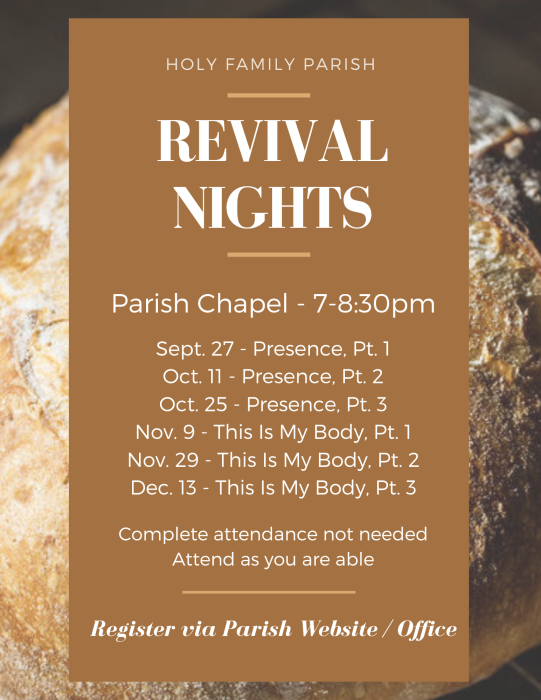 https://www.signupgenius.com/go/10C084EADA922A0FBCE9-revival#/
Speaking for the Unborn
Speaking For The Unborn, a 3-part book study with Fr. David Stavarz and Mary von Carlowitz (Director of the Diocesan Office for Human Life) will be held at St. John Bosco Parish Hall/Bell Tower. The book study will meet on Monday, September 18, October 16, and November 13 from 7:00 P.M. until 9:00 P.M. Registration is now open at dioceseofcleveland.org/speakingfortheunborn or call Fr. David Stavarz at 440-842-5533 ext. 309.
Knights of Columbus Fall Fest
The Holy Family Knights of Columbus 10th Annual Fall Fest will be held on Sunday, October 8, 2023, from 10:00 A.M. until noon. Tickets are available at the parish office for $10.00 each (1 and under are free). Cash or check only; please make checks payable to Holy Family Knights of Columbus. Non-perishable food items will be collected and donated to our Holy Family Food Pantry.
Pancakes, waffles, and Sausage (omelets are available for an additional $3.oo at the door).
Hayrides
Kids' crafts, pumpkin painting, and more.
Apple pie judging at 11:30 A.M. Bring your best homemade apple pie for a chance to win 1st, 2nd, or 3rd place!
Pumpkin judging. Bring your best work for a chance to win 1st, 2nd, or 3rd place!
Basket raffle at 11:45 A.M. Basket raffle tickets are $1.00 each or 6 for $5.00.
50/50 raffle tickets will be available throughout the event.
Bring your camera for pictures with Sir Scarecrow.
Holy Hiking
Join Fr. David Stavarz on Saturday, September 30, 2023, from 9:30-11:30 A.M. and/or Sunday, October 15, 2023 from 1:00-3:00 P.M. for a fun fall hike at West Creek Reservation (Watershed Stewardship Center) located at 2277 W. Ridgewood Dr. Parma, Ohio 44134. Snacks and water will be provided. Registration is limited to 40 hikers per date. https://www.signupgenius.com/go/10C084EADA922A0FBCE9-44331958-holy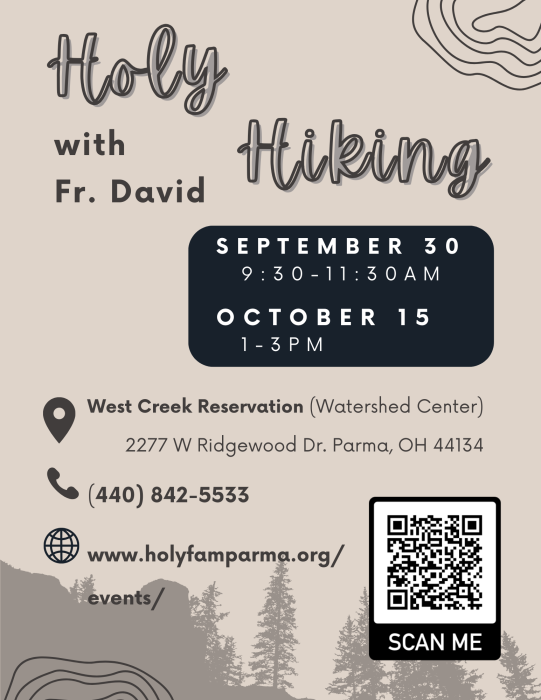 Holy Family Women's Ministry
Please join us in the cafeteria from 7:00-8:30 P.M. on Monday, October 2, 2023, for a free live drama celebrating the Life & Times of Mother Angelica. This unique portrayal is enhanced with historic photos, creative stage display, and miraculous facts.
Knights of Columbus Movie Nights
The Holy Family Knights of Columbus Movie Nights have resumed! The next movie, "Breakthrough", will be presented on Friday, October 6, 2023 beginning at 6:00 P.M. and last for 90 minutes. As always, refreshments including a Dairy Queen treat will be available. Please stay tuned for the complete 2023-2024 schedule.
Holy Family Parish Community Service Day
We are happy to bring back our Community Service Day on Saturday, October 14, 2023. This is a day where everyone has the opportunity to contribute to the success of this day, regardless of your age, skill level, or mobility. We are seeking volunteers for Prayer Warriors, Artisans & Crafters, Nursing Home Assistants, and Yard Helpers. We will begin our day with a prayer service at 8:30 A.M. in the chapel, followed by coffee and donuts. T-shirts and assignments will be distributed at 10:00 A.M. We will finish our day with Mass at 4:30 P.M. immediately followed by dinner. Click here to register or call the office at 440-842-5533.
Trapper Jack is coming to Holy Family Parish
Please join us at 6:30 P.M. in the chapel on Wednesday, November 15, 2023, for a presentation by Trapper Jack. Keeping with this Eucharistic Revival Year, the talk is entitled "Eucharist – A Challenging Truth to Swallow. A free will offering will be accepted for this speaker. For more information, please call Deacon Joe at 440-725-2685.
Votive Candles
Votive Candles are now available for purchase in Church.  Unlit candles will be placed in the holder each week. Candles are $ 3.00 each.  Each candle lit must be paid for.  Envelopes are available near the Candelabra – please return in the collection basket or to the parish office. DO NOT leave envelopes on the Altar or anywhere in the Church.  We appreciate your cooperation.  Additional candles may be purchased at the Parish Office during regular business hours or from the music director, Marie Toth, after Masses on the weekend.
Scrip Gift Card Program
Please consider purchasing gift cards to the many stores and restaurants that you frequently visit and for your gift giving needs. Gift cards may be purchased by calling the parish office at 440-842-5533, emailing office@holyfamparma.org, sending the order form with your child to school, or you can stop in the parish office. Proceeds benefit our school tuition assistance program and STREAM program. In addition to the gift cards listed, we are able to special order a wide variety of gift cards and denominations. Please contact the parish office to inquire about special orders. Scrip Card Order Form – May 2023 Gift cards may also be purchased and shipped directly to your home using the RaiseRight App on your smartphone. Please see the flyer for details and the enrollment code. ShipToHome_Flyer_Editable (2)
ACME Fresh Market Community Cash Back 
The 2023-2024 ACME Fresh Market Community Cash Back program will run from August 1, 2023 through February 15, 2024. Please see the flyer for details. Thanks to your support, we received a check for $168.99 from the ACME 2022-2023 Community Cash Back program!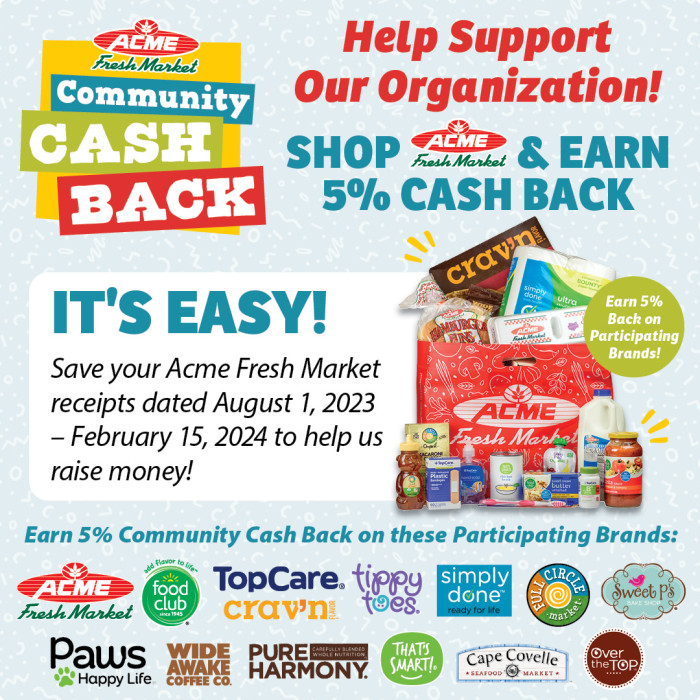 Holy Land Gifts
Please see the flyer for information regarding purchasing religious articles from Holy Land Gifts, or go to their website GiftsofJerusalem.com for more information. Flyer for Holy Land Gifts_
River Valley Paper Recycling Program