Welcome to Holy Family Catholic Parish
Holy Family Parish Festival: July 31-August 4
Our 15th Annual Parish Festival is right around the corner! This year's festival will be from July 31 to August 4, 2019! Donations are still being accepted for the Century Club, the new Anniversary  Club, or to be a Bronze Donor, Silver Donor or  Gold Donor. Donation forms are in the bulletin or at the parish office.
The parish office is now accepting donations of baskets for the Chinese basket raffle. Your donation may be brought to the parish office during regular business hours. (Please no alcohol or lottery tickets) Thank you for your generous support of the festival!
Online volunteer registration has begun at www.holyfamilyparish.ivolunteer.com. Please consider volunteering for one or more time slots. Paper volunteer request forms are available in the bulletin. 
Holy Family Church Enhancement 
Holy Family Church has established an Enhancement Involvement Line. Please email your comments or questions to: enhancement@holyfamparma.org , download a copy of the survey Space needs assessment and return to the parish office or through the offertory collection basket, or leave a phone message at: 440-842-5533 ext 601. Your thoughts and concerns are important, please be sure to sign your survey, we will take all correspondence into consideration and do our best to respond.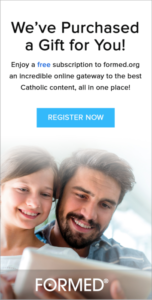 Access to Formed.org
Holy Family Parish is pleased to announce that we have signed up for a FREE one year subscription to "FORMED" for our parishioners. FORMED On Demand is a subscription service offering access to thousands of studies, films, audios, and eBooks from over 40 of the best Catholic content producers. To access FORMED, please click on the link holyfamparma.formed.org to create an account using your email address. Please contact Brian or Michele Bizzi at bbizzi@holyfamparma.org with any questions or comments.
Holy Family School
School is out of session for the summer. The school office will be open from August 1, 2019 through August 20, 2019 from 9:00 AM to 12:00 PM. For more information or a tour of Holy Family School (grades Kindergarten through 8),  please call 440.842.7785. The 2019-2020 school year begins on Wednesday, August 21, 2019 for grades 1-8 and on Thursday, August 22, 2019 for kindergarten students.
Childcare & Preschool
Holy Family Childcare/Preschool is also accepting registrations for their Preschool programs for 3, 4 and 5 year olds.  For more information please call 440.886.4717.  Full-time and part-time slots are available during the school year and year round.
For more information regarding upcoming events, please review our weekly bulletin tab located above or contact the Parish office.
Liturgy Schedule
Saturday   4:30 and 6:oo pm (Vigil)
Sunday    7:30, 9:30 and 11:30 am
Weekdays – Monday thru Friday   8:30 am
Sacrament of Penance
Saturday 3:00 to 4:00 pm
Other times – by request
Devotions Schedule
Adoration/Exposition:
Every Wednesday at 1:15-3:15 pm in the Chapel and Sunday at 7:00 pm in the Church
Holy Rosary:
Every Wednesday, Thursday and Friday immediately following the 8:30 am Mass in the Chapel
Our Lady of Perpetual Help Novena:
Every Tuesday immediately following the 8:30 am Mass in the Chapel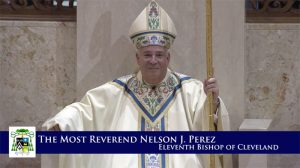 God Bless Bishop Nelson J. Perez !

Parish Mission Statement
We, the people of Holy Family Parish in Parma, Ohio, were established in 1872 as a community of Catholic faithful;  We worship God in the celebration of the Eucharist;  We evangelize through Jesus Christ, sharing the great message of salvation;  We foster community as a spiritual home for all in our parish;  We promote Catholic education and faith formation for all ages;  We extend loving service to the poor, sick, and needy;  We develop Catholic leaders and encourage participation in ministries by using our time, talent, and treasure;  We  strive to follow the example of Jesus, Mary and Joseph, the original Holy Family.