Liturgy Schedule

    Saturday   4:30 and 6:oo pm (Vigil)
    Sunday    7:30, 9:30 and 11:30 am
  Weekdays – Monday thru Friday – 8:30 am
  Sacrament of Penance
     Saturday 3:00 to 4:00 pm
    Other times – by request
Welcome to Holy Family Catholic Parish
Holy Family School is in session, please drive safely around the parking lot and surrounding area. For more information or a tour of Holy Family School (grades Kindergarten through 8),  please call 440.842.7785.
Holy Family Childcare/Preschool is also accepting registrations for their 5-star Step Up to Quality Preschool programs for 3, 4 and 5 year olds.  For more information please call 440.886.4717.  Full-time and part-time slots are available during the school year and year round.
Letter from Bishop Perez:  To read the letter from Bishop Perez, please click the link. Letter to the faithful regarding current abuse issues Oct 2018
For more information regarding upcoming events, please review our weekly bulletin tab located above or contact the Parish office.
Devotions Schedule
Adoration/Exposition:
Every Wednesday at 1:15-3:15 pm in the Chapel and Sunday at 7:00 pm in the Church
Holy Rosary:
Every Wednesday, Thursday and Friday immediately following the 8:30 am Mass in the Chapel
Our Lady of Perpetual Help Novena:
Every Tuesday immediately following the 8:30 am Mass in the Chapel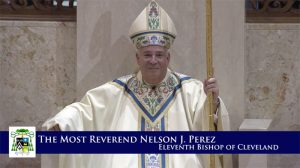 God Bless Bishop Nelson J. Perez !

Parish Mission Statement
We, the people of Holy Family Parish in Parma, Ohio, were established in 1872 as a community of Catholic faithful;  We worship God in the celebration of the Eucharist;  We evangelize through Jesus Christ, sharing the great message of salvation;  We foster community as a spiritual home for all in our parish;  We promote Catholic education and faith formation for all ages;  We extend loving service to the poor, sick, and needy;  We develop Catholic leaders and encourage participation in ministries by using our time, talent, and treasure;  We  strive to follow the example of Jesus, Mary and Joseph, the original Holy Family.