Liturgy Schedule

    Saturday   4:30 and 6:oo pm (Vigil)
    Sunday    7:30, 9:30 and 11:30 am
  Weekdays – Monday thru Friday – 8:30 am
  Sacrament of Penance
     Saturday 3:00 to 4:00 pm
    Other times – by request
  Stations of the Cross
   Traditional:
     Friday, March 22                    7:30 pm
     Friday, March 29                    7:30 pm
     Friday, April 5                         7:30 pm
     Friday, April 12                       7:30 pm
     Friday, April 19                       7:30 pm
   HF School (geared toward children):
     Thursday, March 28              12:45 pm
     Wednesday, April 3               12:45 pm
      Monday, April 8                    12:45 pm
Welcome to Holy Family Catholic Parish
The 2019 Fish Fry is brought to you by the Holy Name Society with assistance from the Altar & Rosary Society and many volunteers. This years dinners will be from 4:00-7:00 PM in the Costello Center beginning on Ash Wednesday and continuing on all Fridays during Lent. Please see the attached flyer for prices and dates. Don't forget…all dinners are also available for takeout! 2019 Fish Fry flyer
Lenten Schedule: Please click the link to see the entire Lenten schedule: 2019 Lenten Schedule
River Valley Paper Company is celebrating Earth Day with a Bonus Event. Please consider bringing your old newspapers, catalogs, magazines, junk mail, scrap paper, notebooks, hard cover and paper back books to the bin during the week of April 14th-April 20th to help the school! Earth Day 2019 Spring into action 2019
Holy Family Parish Festival: Save the Dates-Our 15th Annual Parish Festival-July 31 to August 4, 2019! Stay tuned for more information! We hope to see you again this year!
Holy Family Parish is pleased to announce that we have signed up for a FREE one year subscription to "FORMED" for our parishioners. FORMED On Demand is a subscription service offering access to thousands of studies, films, audios, and eBooks from over 40 of the best Catholic content producers. To access FORMED, please click on the link http://holyfamparma.formed.org to create an account using your email address. Please contact Brian or Michele Bizzi at bbizzi@holyfamparma.org with any questions or comments.
Holy Family School is in session, please drive safely around the parking lot and surrounding area. For more information or a tour of Holy Family School (grades Kindergarten through 8),  please call 440.842.7785.
Holy Family Childcare/Preschool is also accepting registrations for their 5-star Step Up to Quality Preschool programs for 3, 4 and 5 year olds.  For more information please call 440.886.4717.  Full-time and part-time slots are available during the school year and year round.
For more information regarding upcoming events, please review our weekly bulletin tab located above or contact the Parish office.
Devotions Schedule
Adoration/Exposition:
Every Wednesday at 1:15-3:15 pm in the Chapel and Sunday at 7:00 pm in the Church
Holy Rosary:
Every Wednesday, Thursday and Friday immediately following the 8:30 am Mass in the Chapel
Our Lady of Perpetual Help Novena:
Every Tuesday immediately following the 8:30 am Mass in the Chapel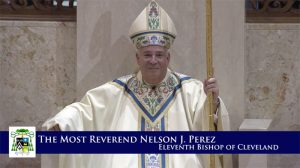 God Bless Bishop Nelson J. Perez !

Parish Mission Statement
We, the people of Holy Family Parish in Parma, Ohio, were established in 1872 as a community of Catholic faithful;  We worship God in the celebration of the Eucharist;  We evangelize through Jesus Christ, sharing the great message of salvation;  We foster community as a spiritual home for all in our parish;  We promote Catholic education and faith formation for all ages;  We extend loving service to the poor, sick, and needy;  We develop Catholic leaders and encourage participation in ministries by using our time, talent, and treasure;  We  strive to follow the example of Jesus, Mary and Joseph, the original Holy Family.