Liturgy Schedule

    Saturday   4:30 and 6:oo pm (Vigil)
    Sunday    7:30, 9:30 and 11:30 am
  Weekdays – Monday thru Friday – 8:30 am
  Sacrament of Penance
     Saturday 3:00 to 4:00 pm
    Other times – by request
Welcome to Holy Family Catholic Parish
A BIG THANK YOU to all who made it possible for a very successful Parish FESTIVAL –  see you next year !
First day of school for Holy Family School students is Wednesday, August 23.  Please drive safely around the parking lot and surrounding area. For more information or a tour of Holy Family School (grades Kindergarten through 8),  please call 440.842.7785.
Registration for 2018-2019 PSR Program– now available here PSR Registration Form 2018 -2019 – NEW
For more information upcoming events, please review our weekly bulletin tab located above or contact the Parish office.

Holy Family Childcare/Preschool is also accepting registrations for their 5-star Step Up to Quality Preschool programs for 3, 4 and 5 year olds.  For more information please call 440.886.4717.  Full-time and part-time slots are available during the school year and year round.
Devotions Schedule
Adoration/Exposition:
Every Wednesday at 1:00 pm and Sunday at 7:00 pm in the Church
Holy Rosary:
Every Monday, Wednesday, Thursday and Friday immediately following the 8:30 am Mass in the Chapel
Our Lady of Perpetual Help Novena:
Every Tuesday immediately following the 8:30 am Mass in the Chapel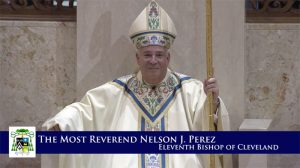 God Bless Bishop Nelson J. Perez !

Parish Mission Statement
We, the people of Holy Family Parish in Parma, Ohio, were established in 1872 as a community of Catholic faithful;  We worship God in the celebration of the Eucharist;  We evangelize through Jesus Christ, sharing the great message of salvation;  We foster community as a spiritual home for all in our parish;  We promote Catholic education and faith formation for all ages;  We extend loving service to the poor, sick, and needy;  We develop Catholic leaders and encourage participation in ministries by using our time, talent, and treasure;  We  strive to follow the example of Jesus, Mary and Joseph, the original Holy Family.