Welcome Home!
posted 2/14/23
Please watch this brief tour of our newly renovated church.
posted 2/11/23
We are pleased to announce the completion of our Church Enhancement Project.  All items in the original scope of the project that were prioritized based on the pledge amount raised have been delivered as architecturally designed and presented to the parish.
We are counting on everyone to continue to make their pledge payments.
click on the Capital Campaign update TAB for current status and how to make your payments
Church Enhancement
In 2022, in conjunction with our 150th Anniversary, our much needed church enhancement was completed. Look back at chronological posts detailing this amazing transformation. This page will also document the completion of the Pledge campaign, as well as other important updates.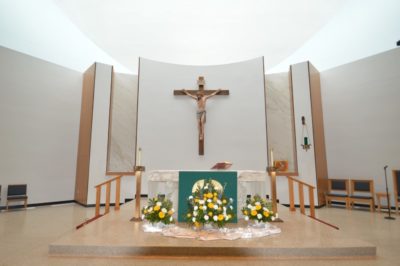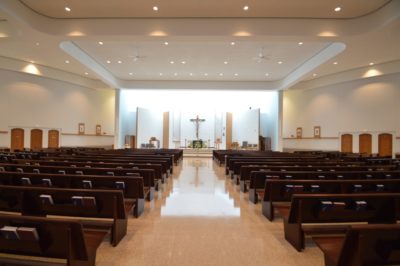 posted 6/20/22
Our Church Renovation is nearing completion.  We celebrated a very special Mass in the Church on June 12, for Fr. Evans, and Fr. Schwet, who celebrated their 40th Priesthood Anniversary.  We conducted the full schedule of Masses in the newly renovated church, this past weekend.  Some things, such as the sound,  need some final adjustments, and completion of several items is ongoing and will not interrupt our use of the church.   The Enhancement Committee is very proud of our newly renovated space, and hope you appreciate its fresh new beauty as well.
posted 5/12/22
Church Enhancement Tours
With the majority of heavy construction, concrete work and dust behind us, the project is finally beginning to show glimpses of its envisioned beauty. We will be offering tours of the church after all Masses this weekend May 14 & 15. The tours will be guided and limited to safe areas to move about the church. It will be hosted by a member of the Church Enhancement Steering Committee, who will be able to answer questions.
We hope you take this opportunity to stay a few minutes after Mass to take advantage of this opportunity to view the wonderful transformation of our beautiful Church.
The Vision Begins to Take Shape
Checkout the Construction Status Tab  – for March 13, 2022 construction update and more photos.
posted  2/23/22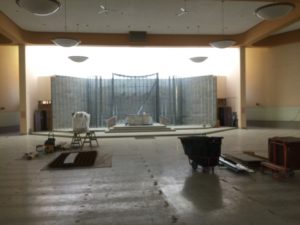 posted 1/20/22
See new construction photos on the Construction Status TAB.
Just Click on Construction Status TAB at left – and scroll down that page for most recent photos.  This Page will be updated regularly during construction.   All Photos will be retained for the duration of the project.
posted 1/15/22
Construction for the renovation of our church has begun.  During this exciting time, we ask for your continued prayers – for the success of the project, as well as the safety of all workers.
God be with you