Welcome Home!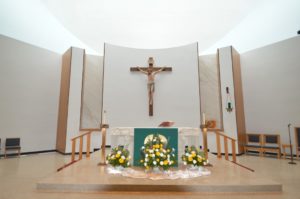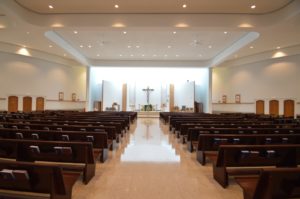 posted 6/20/22
Our Church Renovation is nearing completion.  We celebrated a very special Mass in the Church on June 12, for Fr. Evans, and Fr. Schwet, who celebrated their 40th Priesthood Anniversary.  We conducted the full schedule of Masses in the newly renovated church, this past weekend.  Some things, such as the sound,  need some final adjustments, and completion of several items is ongoing and will not interrupt our use of the church.   The Enhancement Committee is very proud of our newly renovated space, and hope you appreciate its fresh new beauty as well.
posted 5/12/22
Church Enhancement Tours
With the majority of heavy construction, concrete work and dust behind us, the project is finally beginning to show glimpses of its envisioned beauty. We will be offering tours of the church after all Masses this weekend May 14 & 15. The tours will be guided and limited to safe areas to move about the church. It will be hosted by a member of the Church Enhancement Steering Committee, who will be able to answer questions.
We hope you take this opportunity to stay a few minutes after Mass to take advantage of this opportunity to view the wonderful transformation of our beautiful Church.
posted 3/27/22
ENHANCEMENT CONSTRUCTION PACE ACCELERATES
Click on Construction Status TAB at left (or below – if on a mobile device) for current update and photos
posted 3/16/22
IMPORTANT ANNOUNCEMENT
Due to the WINE TASTING EVENT, the overflow Masses on the weekend of March 19/20 will be held in the Gym, NOT the Cafeteria.
The Vision Begins to Take Shape
Checkout the Construction Status Tab  – for March 13, 2022 construction update and more photos.
posted  2/23/22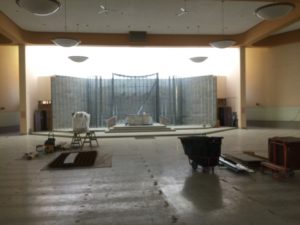 posted 1/20/22
See new construction photos on the Construction Status TAB.
Just Click on Construction Status TAB at left – and scroll down that page for most recent photos.  This Page will be updated regularly during construction.   All Photos will be retained for the duration of the project.
posted 1/15/22
Construction for the renovation of our church has begun.  During this exciting time, we ask for your continued prayers – for the success of the project, as well as the safety of all workers.
Check the Construction Status TAB at the left often.  We will keep you continually up to date with all aspects of construction as we proceed.
.                     God be with you
WELCOME to the Official Launch of the Holy Family Church Enhancement WEB Page
Our Goal is to keep you totally up to date with all aspects of the progress of this most exciting endeavor.  By clicking on the TABS to the left, (or below on mobile) you will open separate pages that deal with the various aspects of our project.
Additions – or "posts" to these pages will be dated and retained in chronological order for the duration of the Project.  This main page "Church Enhancement", will highlight and  point you to new items and posts, so that you don't miss them.
WELCOME again to the Site… we hope you stop by often.
---
Over the past two years and many meetings with Finance Council, Pastoral Council, and parish listening sessions we realized that there is a need for major improvements and updates to our church.  In response, and in recognition of our 150th anniversary as a parish we are ready to commence – The Holy Family Church Enhancement Project.
We will formally launch this WEB Page on Monday October 18, 2021.
Stay tuned for the most recent updates and news items related to this exciting renovation effort.